Boisterous Board Books
Silly books can make for some great read-alouds. Here we have three board books perfect for sharing, playing and laughing.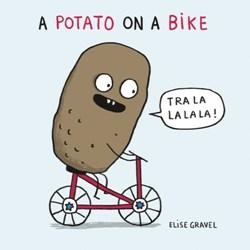 "Have you ever seen... poop wearing glasses?" (Because without them, the poop can't see.) In A Potato on a Bike (Orca Book Publishers, $10.95, ages 0-2), Elise Gravel asks pre-readers if they have seen a bunch of absurd scenarios--a carrot bathing, a fly talking on a phone--then helps them with the obvious answer: "No way!" But so many no's must be leading to a "yes," right? Well, that comes at book's end when Gravel asks, "Have you ever seen... someone tickling a baby?" You know the answer.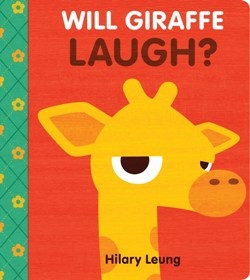 Giraffe is grumpy so his friends decide to cheer him up. In Will Giraffe Laugh? (Cartwheel Books/Scholastic, $7.99, ages 0-3), Hilary Leung's big-eyed animals unsuccessfully try a number of things to make Giraffe laugh: Bear juggles a plunger onto Giraffe's head, Sheep accidentally attacks him with a balloon animal and Frog somehow traps him with its tongue. When Giraffe's friends get grumpy, though, Giraffe realizes it's his job to cheer them up.
In Where Is My Pink Sweater? (Abrams, $8.99, ages 3-5) by Nicola Slater, Rudy, a tiny blue animal with big floppy ears, has lost his pink sweater. "It was a bit too small and showed his belly button. But it was his favorite." Searching the house, he receives hints about his sweater's location from "NINE jiving llamas," "EIGHT prima pigerinas," even seven dogs "slaloming on the stairs." It's not until he reaches ONE--a younger sibling, of course--that he finds his favorite sweater. --Siân Gaetano, children's and YA editor, Shelf Awareness