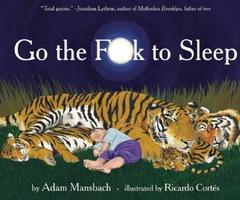 Anyone who has ever had a newborn, an infant, a baby, a toddler, a preschooler... oh, heck, anyone who has ever known a young child will understand the impetus behind Adam Mansbach's runaway bestseller and "children's book for adults," Go the F**k to Sleep. Sometimes even the most dulcet rhymes don't have the desired effect of getting little ones to... well, go the f**k to sleep, although Mansbach does mimic them in his text:
The windows are dark in the town, child.
The whales huddle down in the deep.
I'll read you one very last book if you swear
You'll go the f**k to sleep.
If you haven't heard about this book yet, you've probably been on a remote island for a couple of weeks: Mansbach has or will hit every media outlet from Nightline to Late Night to NPR--and next week the Akashic Books title will even be featured in the somewhat staid Time magazine.
However, the audiobook version, recorded by actor Samuel L. Jackson, may be the best showcase for Go the F**k to Sleep; you can listen to it here; and Audible is offering a free download for a limited time.