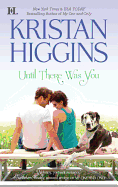 Chick lit and romance readers alike will adore the latest from two-time RITA winner Kristan Higgins (My One and Only). Wry, charming and packed with giggles and tears, Until There Was You will leave fans satisfied and send new readers scrambling for Higgins's backlist.
Posey Osterhagen has never forgotten gorgeous bad boy Liam Murphy. How could she, when he unwittingly broke her 16-year-old heart? That's not to say she hasn't moved on in the last 15 years, but a life split between managing her architectural salvage firm and helping out at her family's restaurant is merely satisfying, not thrilling. Then Liam, now widowed with a teenage daughter, comes back to town.
Since his wife died, Liam's main concerns are raising Nicole and staving off the panic attacks that he might lose her like he lost her mother. Romance is the farthest thing from his mind, until he's blindsided by an out-of-the-blue attraction to Posey's offbeat sense of humor and her kissable lips.
Higgins offers readers an endearing and realistic heroine in Posey, a tiny woman with a big heart and a smart mouth. Liam's desire to protect his daughter will steal readers' sympathies even as his refusal to let her grow up makes them long for Posey to talk sense into him. With a host of lovable characters, hilarious dialogue and the message that family is what you make of it, Until There Was You will leave you smiling long after the last page. --Jaclyn Fulwood, graduate assistant, University of Oklahoma Libraries