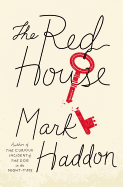 The Red House introduces us to Angela and Richard, estranged siblings who reunite at the funeral of their mother; perfunctory greetings are exchanged, and that seems to be that. The following week, however, Richard invites Angela and her husband, Dominic, and their three children--Alex (17), Daisy (16) and Benjy (8)--to a big house in Wales for a week. Despite misgivings, they agree, since they can't afford a vacation on their own.
Richard is a wealthy physician who has recently acquired a new wife, Louisa, and her wretched teenage daughter, Melissa. The stage is set for all the long-held resentments between and among the parties to come to the fore. In the hands of Haddon (The Curious Incident of the Dog in the Night-Time and A Spot of Bother), we learn all about these eight people in a way that renders most of them sympathetic.
We grieve with Angela, who has been hallucinating about her first child, stillborn 18 years ago. Dominic is preoccupied, wondering whether to break up with his girlfriend. Melissa and Daisy are up to some extraordinary things that come to a head in Wales. Young Benjy is full of monsters and superheroes and worried about everything, while Alex lusts for Melissa.
In the best manner of first-rate storytelling, as the slowly revelatory tale unfolds, Haddon lets readers in on the fact that no one is quite what he or she seems to be. --Valerie Ryan, Cannon Beach Book Company, Oregon