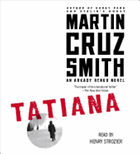 Henry Strozier gives voice to Russian investigator Arkady Renko, who returns in Tatiana, the eighth novel featuring Martin Cruz Smith's somber protagonist (introduced in Gorky Park). Strozier's slow, weary cadence brings out Renko's melancholy as well as the destitution of his environment.
Renko is unconvinced that fearless reporter Tatiana Petrovna chose to jump to her death. He wants to investigate, but once it's deemed a suicide he has no cause. The pieces don't add up, though, and when Grisha Grigorenko, a powerful mob boss and a target of Tatiana's reporting, is shot to death the same week, Renko's discomfort intensifies. He gets his opportunity to investigate when Tatiana's body winds up missing from the morgue. As he follows the clues to Kaliningrad, the tone grows only grimmer.
Strozier's approach maintains the dark tone while differentiating each character (without resorting to a Russian accent in the dialogue). His pitch doesn't change much throughout the narration, but he manages to bring out the playfulness of scenes involving a pug dog and the naiveté of Renko's teenage charge, Zhenya, who thinks he will find glory in joining the army. He is also acutely aware of Smith's subtle humor, adding just the right vocal adjustments to drive home the amusement and elicit a laugh from the audience.
The overall production of Tatiana is crisp and free of superfluous noises, allowing listeners to focus on the story and fully experience Renko's world. --Jen Forbus of Jen's Book Thoughts