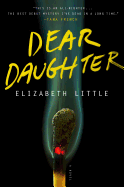 The epigraph to Elizabeth Little's first novel neatly introduces her sassy "celebutante" narrator, Janie Jenkins: "Some girls are just born with glitter in their veins"--attributed to Paris Hilton, no less. When Dear Daughter begins, Janie is fresh out of prison after serving 10 years for the murder of her wealthy socialite mother, released on a tampered-DNA-evidence appeal.

Although fuzzy about what happened the night of the crime, Janie is convinced of her innocence and determined to prove it. She goes off the Hollywood blogosphere grid to follow her only clues: the vaguely remembered overheard words of her mother's last conversation. They lead her to backwater Ardelle, S.Dak., during the annual Gold Rush Days festival, where typical small-town pride meets equally typical small-town gossip and intrigue.

Best known for her nonfiction explorations of language quirks (Biting the Wax Tadpole), Little peppers her novel with the sort of contemporary slang and acronyms typically seen on the screens of hip smartphones. But as much as the voice of Janie entertains, Little drives Dear Daughter with the string of surprises and buried secrets revealed as Janie unravels the mystery of her mother's past. It is a thriller much like Gillian Flynn's blockbuster Gone Girl--except instead of the East Coast literary angst of Flynn's protagonists stuck in Missouri, Little's Midwest visitor really does have Los Angeles "glitter in her veins" and can't quite shake her mother's advice to "wear great clothes, throw great parties, and give money to kids with cleft palates." --Bruce Jacobs, founding partner, Watermark Books & Cafe, Wichita, Kan.