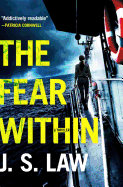 Lieutenant Danielle "Dan" Lewis must deal with a sinister serial killer, the disappearance of a young woman off a navy warship and criticism from the higher-ups over her unorthodox strategies in The Fear Within. J.S. Law (Tenacity) makes the ace investigator of the Royal Navy's Special Investigation Branch both authentic and almost superhuman, as she tries to juggle several spiraling investigations.

Nearly a decade earlier, Dan helped catch notorious predator Christopher Hamilton, who used his military position to murder dozens of women. She'd hoped to never speak to him again, but now body parts of some of his victims have been mailed to headquarters. Does this mean he had a partner, who's remained at large all this time? She reluctantly heads to prison to speak with Hamilton, at his request.

Meanwhile, Natasha Moore, 18, has gone missing from her ship, the Defiance. As Dan and her partner start to investigate the Defiance's crew, they begin to suspect something truly terrible is roiling beneath the apparently placid surface of the crew's personnel.

Fast-paced, shocking and full of twists and turns, The Fear Within is perfect for thriller-readers and NCIS-watchers alike, offering American readers an interesting glimpse into what's probably an unfamiliar world. Alternating between Natasha's early experiences aboard Defiance and Dan's present-day investigation, the staggered storylines ratchet the tension ever higher, keeping the reader guessing until the very last moments. --Jessica Howard, bookseller at Bookmans, Tucson, Ariz.