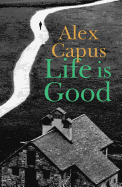 In Alex Capus's Life Is Good, Max, a 50-something, married father of three, is cozy in the world he's built for himself. A former writer, he now owns a bar in the small town in Switzerland where he grew up, tending to the needs of his neighbors and old friends after seeing his sons off to school each day. That coziness envelops the book, pulling you into a quiet life--sort of like sliding onto a well-worn couch.
There isn't really a plot. The novel begins when his wife, Tina, departs for a year-long sabbatical in Paris, leaving Max to fend for himself and his nearly-grown sons. Capus (Léon and Louise), however, is more interested in probing the psychology of that departure than using it as the start of a narrative arc. Life Is Good dwells in memory, the stories the narrator tells himself and friends about his marriage, childhood and the history of his hometown.
Given the description one might assume the story is a bore, a navel-gazing look at the life of an established man. But Capus's writing is lively, and Max is just off-kilter enough to make hanging out with him interesting. Plus, at 200 pages, the book makes sure to not overstay its welcome. It's a perfect companion to a snoozy Sunday afternoon, lounging on that well-worn couch. --
Noah Cruickshank
, adult engagement manager, the Field Museum, Chicago, Ill.