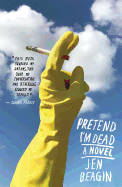 Whiting Award-winner Jen Beagin's first novel, Pretend I'm Dead, features the raunchy, antsy, droll and painstakingly proficient housekeeper Mona. After a blue-collar childhood in Torrance, Calif., with an alcoholic father and equally dysfunctional mother, she is placed with distant kin in Lowell ("Hole"), Mass., and pretty much left to fend for herself. By day she cleans the houses of her adopted hometown. By night she works at a pop-up needle exchange, where she meets a disabled addict wearing a tee with Jack Kerouac on the front. Two decades older and living in an SRO hotel, this man she calls "Mr. Disgusting" has a room with real paintings, Indian textiles and shelves of existential and Russian novels--unlike her last boyfriend, "some edgeless dude... whose heaviest cross to bear had been acne." Mona may not know where she's going, but she knows what she likes.
If Mona's uneasy relationship with Mr. Disgusting opens doors to possibility, her housecleaning work grounds her. She's got a vacuum jones ("on applications she listed it as one of her hobbies") to go with the practice of raiding her clients' medicine cabinets. When Mr. Disgusting disappears, he leaves her a letter urging her to escape to New Mexico to start a new life. Why not? After packing her pickup with books and cleaning supplies, she takes off, rents half an adobe casita duplex in Taos, and launches a housekeeping business.
Beagin's debut is grungy and ribald, melancholic and funny. Throw in a little wisdom, schmaltz and a few useful housekeeping tips, and
Pretend I'm Dead
delivers a real bang for the buck. --
Bruce Jacobs
, founding partner,
Watermark Books & Cafe
, Wichita, Kan.