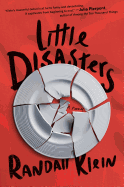 Two babies are born the same July day in 2009 at Park Slope's New York Methodist Hospital. One arrives healthy with all flags flying on his Apgar; the other dies almost immediately of a congenital heart defect. Their fathers meet first in the waiting room and escape outside to share cigarettes and bourbon in a flask. From this chance encounter, Randall Klein's first novel, Little Disasters, spins a story of fraying relationships and stretched love. The dramas play out in a city brought to its knees by a mysterious catastrophe in Midtown that has panicked New Yorkers.
Paul and Jenny have already prepped a room in their small apartment for their deceased baby. Paul is an actor chasing auditions, and Jenny does freelance editing to help pay the bills. Michael and Rebecca manage to cover the rent with help from his parents. Bound by their day in the hospital waiting room but separated by the radically divergent fates of their babies, the couples begin to socialize. Michael offers to turn the baby room into a custom-built office for Jenny. Rebecca hosts dinner get-togethers and sends them fresh cookies. Emotions run high. Thrown together during the nursery remodel while their spouses work, Michael and Jenny begin an intense affair.
After a decade editing books, Klein has honed his writing chops. With a strong feel for the city and its young strivers,
Little Disasters
is a poignant debut driven as much by resolving the uncertain future of these once content couples as by revealing just what caused the Midtown meltdown. --
Bruce Jacobs
, founding partner,
Watermark Books & Cafe
, Wichita, Kan.