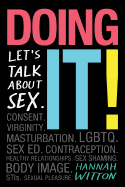 Take a big breath, parents. Doing It is going to be your teens' guidebook on sex. Because when author Hannah Witton says "Let's Talk About Sex," she means consent, virginity, sexting, porn, masturbation, "LGBTQ+," sex ed, contraception, healthy relationships, sex shaming, body image, STIs, sexual pleasure and a whole lot more than what previous generations have been taught. She's covering the kind of information that teens want to know, and she's sharing it in the way a wise, well-informed, hilarious big sister would. Yes, there are the requisite black-and-white drawings of fallopian tubes and genitalia, but mostly, Doing It is packed with practical information, advice, anecdotes, confessions and, above all, acceptance.
Witton, a sex-positive vlogger and online sex educator, writes with compassion and youthful exuberance. She models a winsome balance of self-deprecation and self-love, being open about her own experiences and bringing in experts to write first-person narratives on certain topics when she recognizes her limitations as a "straight cis woman ([she's] attracted to the opposite sex, and the sex [she] was assigned at birth matches [her] gender identity)."
Doing It is an incredible resource for teens who are not yet sexually active as well as for those who are. Witton reassures readers that what they feel and think is normal and provides plenty of approachably awkward personal stories to back up her claim. She repeats her basic message over and over: "[Y]ou deserve and are entitled to healthy relationships." Also, "what [is] right for one person may not be right for another."
And that is really, truly okay. --
Emilie Coulter
, freelance writer and editor