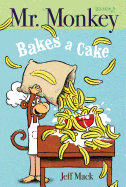 Jeff Mack, author of gems including
Look!
and
Ah Ha!
, has largely made his mark with picture books of few words and many laughs. For two new books, Mack expands his vocabulary and creates more elaborately absurd scenarios to suit a slightly older readership.
In Mr. Monkey Bakes a Cake, the monkey-chef decides to enter his freshly baked banana cake in a cake show. The hard part: getting the cake across town without being trampled by a speed-demon bicyclist ("DING! DING!"), keeping the cake from a hungry gorilla's jaws ("GRR!") and so on. Publishing simultaneously is Mr. Monkey Visits a School, in which Mr. Monkey masters the art of juggling and receives an e-mail from a librarian asking him to "please visit our school and do your trick." (Yes, we're supposed to wonder how the librarian knows that Mr. Monkey can juggle.) Mr. Monkey braves rain, snow and an inconveniently situated cow ("MOO?") to get to the school, where he loses his juggling props and faces something more unnerving than a hungry gorilla: a mob of elementary schoolers.
Both books deliver rich payoffs by harking back to earlier plot points (the kamikaze bicyclist and the obstructionist cow end up saving the day, and a banana that Mr. Monkey stashed in his pocket has just-in-time gorilla-calming powers). With their simple sentences, daffy situations navigated by daffier characters and unfussy and upbeat animal-centric art out of the P.D. Eastman school, these titles call to mind golden-age Beginner Books, albeit with more sound effects ("OOF!"). --
Nell Beram
, freelance writer and YA author