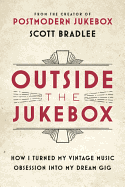 What do you get when you mix vintage jazz with hip-hop? What happens when you mash up ragtime with '90s pop? In Outside the Jukebox: How I Turned My Vintage Music Obsession into My Dream Gig, Scott Bradlee explains how he turned his ability to expand musical boundaries into an international musical sensation.
Bradlee scorned music lessons when he was young. He did, however, enjoy "putting music where it didn't belong," and, as a teenage Wal-Mart employee, organized a rogue performance in the store. This, not surprisingly, resulted in his termination but solidified his belief that music had "the potential for rebellion." After college and as a struggling musician, he uploaded a medley of '80s pop hits performed in ragtime to YouTube. The reception was overwhelmingly positive, and he began performing for a growing YouTube audience. Relying on college friends for his performers and recording in his apartment, this was a wildly successful formula, and
Postmodern Jukebox
was born. Bradlee eventually made the leap from successful Internet band to live touring, and gives an authentic recounting of the challenges and victories he experienced.
From Miley Cyrus's "We Can't Stop" performed as '50s doo-wop, to Radiohead's "Creep" as a bluesy ballad, the world can't get enough of Bradlee's compositions that "celebrate and explore much-maligned songs without mockery." Fans of Postmodern Jukebox will certainly enjoy this, but anyone who is ready, as Bradlee says, to "go out and make art" will appreciate his optimistic tone as well. --
Cindy Pauldine
, bookseller, the river's end bookstore, Oswego, N.Y.