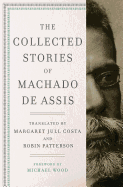 A progenitor of modern Latin American literature, Brazilian author Joaquim Maria Machado de Assis was a prolific short story writer as well as a novelist and poet. Translated into English by Margaret Jull Costa and Robin Patterson, The Collected Stories of Machado de Assis is funny, bewitching and a clear influence on the great South American writers to follow.
Combining seven books of short stories, which date from 1870 to 1906, The Collected Stories range from flights of fancy to piercing looks at race and class in Brazil. "The Alienist," from 1882's Miscellaneous Papers, is one of the best, a hilarious farce about the nature of science and human politicking. Other works, like "Father Against Mother," from 1906's Relics from an Old House, depict the horrible depths of slavery (legal in Brazil until 1888). De Assis descended from slaves, and the empathy and terror he feels for enslaved peoples is clear in "Father Against Mother," which follows a slave hunter as he goes out to find a pregnant slave who has run away.
Modern readers might find the prose a little affected (Jull Costa and Patterson do a splendid job of both modernizing the language while still keeping its formal rigor), but no more than Charles Dickens, a contemporary of de Assis. Those with an interest in the work of Latin titans such as Gabriel García Márquez and Jorge Luis Borges will find a lot (both figuratively and literally) in
The Collected Stories
to add to their understanding of South American literature. --
Noah Cruickshank
, adult engagement manager, the Field Museum, Chicago, Ill.