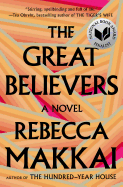 After her beloved brother, Nico, dies of AIDS in 1985, Fiona Marcus copes with her grief by becoming closer to his many friends in Chicago. Shell-shocked by the rapid progression of a new and mysterious virus that changes vibrant, young gay men into ghosts, the friends live in fear of their future while remembering those they loved.
Among Fiona's friends is Yale Tishman, a fund-raiser for Northwestern University's Brigg art gallery. Yale is on the verge of acquiring several rare and valuable masterpieces owned by Fiona and Nico's great-aunt. If successful, the large donation has the potential to transform both the gallery and Yale's promising career.
Fast-forward 30 years. By 2015, Fiona is divorced and managing a nonprofit store that benefits AIDS charities. Her estranged daughter, Claire, who had "grown up feeling... that her mother's greatest love was always focused on something just over the horizon of the past," has gone missing but is believed to be living in Paris. Fiona flies to the City of Love and stays with an old friend from Chicago--someone who survived and documented the AIDS epidemic alongside her, complete with photographs and videos that are part of a new exhibit.
An astonishing layered and emotionally stirring novel,
The Great Believers
returns readers to a time when love meant fear, risk and death. With a narrative that seamlessly segues and connects time and decades, Rebecca Makkai (
Music for Wartime
) brilliantly captures a devastating era marked by political inaction and shock. Decades after society's collective memories of the epidemic have faded, Makkai's abundantly alive characters beg us to remember again. --
Melissa Firman
, writer, editor and blogger at
melissafirman.com