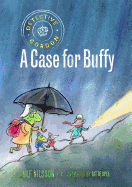 Detective Buffy is a young mouse police officer under the tutelage of Detective Gordon, "the famous criminal detective, the terror of all villains," who also happens to be a very old toad. Life is busy and productive in the "sweet little police station" in the woods, with Buffy rubber-stamping ("kla-dunk") solved cases of litterbugs and missing scarves, and Gordon dozing in a cozy bed in the renovated prison.
Then two tiny kindergartners--another mouse and toad pair--show up for "small police school," and in the ruckus of the young ones learning how to salute and spy, Buffy suddenly remembers the mother she lost when she herself was young. Distraught at not being able to remember what happened to her mother, she takes Gordon's advice: "Why don't you start by writing small poems about your mother, so the memories come back. That's what a real police officer does."
Sure enough, the memories flood back in several free-form poems, including this clincher: "Sharp claws--Fox!/ Running here and there./ Waterfall, fir trees.../ Running all day/ Over snow, over mountains./ Everyone's gone!" The stage is set for Buffy and Gordon's most important police investigation yet: "find a mother!"
Following
The First Case
,
A Complicated Case
and
A Case in Any Case
, this stand-alone fourth book in the Detective Gordon series by Swedish author Ulf Nilsson and Dutch illustrator Gitte Spee is whimsical perfection. Spee's soft, colorful pictures are reminiscent of William Steig's classic illustrations. Readers who have graduated from early chapter books like Arnold Lobel's Frog and Toad series will adore
A Case for Buffy
, with its gentle adventures, droll humor and delicious cakes at every turn. --
Emilie Coulter
, freelance writer and editor