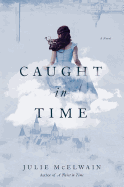 Julie McElwain (
A Twist in Time
) continues her Kendra Donovan series with a third entry,
Caught in Time
. The FBI agent is still trapped in the 19th century, but now that it's been a few months since she accidentally slipped through a wormhole, she's starting to adapt to the strictures of the earlier era; and since the Duke of Aldridge declared her his ward, she's allowed much more leeway than most women get.
Kendra and the Duke are traveling to one of his country estates when a heavy fog slows their journey. In the mist they see a group of Luddites, armed with axes, off to destroy the mechanical looms at a local mill. The travelers stop in the town of East Dingleford, intending to remain only for the night, but when the constable discovers, along with the broken machines, the brutalized body of the mill owner, Kendra can't help but intervene. The Duke, fascinated with her hints about the future and forensic science, aptly aids her, even calling in his handsome nephew, Alec, to assist.
Caught in Time
is an excellent historical mystery. McElwain weaves a delicate web that can keep readers guessing until the very last moment, and the time travel framing the story adds a fascinating extra layer. It's well-researched with a fast-moving plot and many quirky village characters. As Kendra walks a fine line between disgruntled mill employees, a nasty local farmer and a squire with gout, she will have to use every bit of her 21st-century wits to guide her to catch a killer. --
Jessica Howard
, bookseller at Bookmans, Tucson, Ariz.