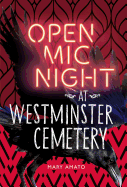 "Lacy's scream is loud enough to wake the Dead, and that is precisely what is happening." Sixteen-year-old Lacy Brink wakes, thoroughly confused, in Westminster Cemetery. Turns out, she's dead. She quickly learns that the afterlives of the cemetery's Dead are governed by strict rules, enforced by the unforgiving Mrs. Steele. Rule-breaking in Westminster has consequences--"[t]hree strikes and you become one of the Suppressed, which means you lose your aboveground privileges." (The cemetery's most famous resident, Edgar Allan Poe, is among the Suppressed.) Horrified Lacy tries to adapt to her afterlife with the help of earnest 17-year-old Civil War soldier Sam. Lacy is assigned to host an evening of entertainment and proposes an open mic night "to create a space for self-expression." The residents of Westminster crave a change from the monotony, but are they bold enough to accept Lacy's radical proposal, open up and risk Mrs. Steele Suppressing them all?
Mary Amato's inventive
Open Mic Night at Westminster Cemetery
finds humor in the grave. Formatted as a play, with a helpful narrator occasionally chiming in,
Open Mic Night
dares readers to laugh at the macabre. Even though the main cast is already dead, the threat of Suppression is serious enough to create notable tension, and the revealed secrets of a few characters are memorable and affecting. Additionally, Lacy's liberal use of profanity (she's particularly fond of yelling "F*ck!" in the quiet graveyard) allows the reader to feel as jarred by her presence as the Dead do.
Open Mic Night
reinvents the afterlife in a way that's both mysterious and playful. --
Kyla Paterno
, former YA and children's book buyer