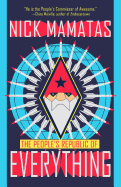 Nick Mamatas (
I Am Providence
) creates landscapes in
The People's Republic of Everything
that are off-kilter yet disconcertingly familiar. This short story collection examines his recurring themes of "the body, technology, [and] materialism" with tales that span conventional narrative, science fiction and dystopian fantasy; dark themes abide, touched with a fair bit of humor.
The title story, "The People's Republic of Everything and Everywhere," introduces a narrator who is part of an anarchist scheme to steal the Q-chip: it breaks every code and cracks every password. "No walls, no doors" is the insurgents' motto. In "Arbeitskraft," factory workers are altered with prosthetic limb devices that repress an already downtrodden class. The main character, a rich man who fancies himself a liberal do-gooder, is used to "critique steampunk without creating an anti-steampunk story."
This collection also includes the preferred author edition of Under My Roof, a novel set in the near future when war is constant. A telepathic boy tells the very funny story of his father's homemade nuclear bomb and the reaction to his declaring their house a new country. Part Kurt Vonnegut and part The Mouse That Roared, it's a biting and relevant satire.
Mamatas adds author notes at the end of each story. The reader may come away with the feeling that it's a minor miracle that any of his unusual work sees print--and a very good thing that it does--because his underground aesthetic and slightly skewed imagination give adventurous readers a wild ride. --
Cindy Pauldine
, bookseller, the river's end bookstore, Oswego, N.Y.