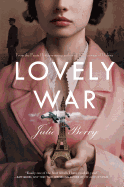 Words like "epic," "sweeping" and "romantic" might have been designed with Julie Berry's Lovely War in mind. In this love story "for the ages," parallel story lines depict both a mock trial between Greek gods and the love stories of two intertwined pairs of mortals.
In the middle of World War II, Hephaestus, Greek god of fires, lays a trap for his wife, Aphrodite, goddess of love, and her not-so-secret lover, Ares, god of war. Rather than submitting to the "spectacle of the entire pantheon of immortals howling and cackling at her mortification" on Olympus, Aphrodite negotiates a private trial. Aphrodite--who believes that, though she is the "source of love," no one can "ever truly" love her--tells "judge, jury, and executioner" Hephaestus what "real love looks like," as illustrated by imperfect mortals. Aphrodite's narrative then shifts back and forth between the world wars.
In November of 1917, soldier James meets pianist Hazel as she plays music for a church dance in her London neighborhood. Their sweet budding romance is cut short when James is summoned early to the Western Front. Meanwhile, another love story is percolating. Colette, a white Belgian singer who lost her entire family to a brutal German slaughter meets (and falls for) Aubrey, a black musician and New Yorker whose all-black regiment performs for other soldiers. As Aphrodite and her fellow immortals debate the role of love in war, and war in love, the four young people enact the real-life courtroom drama--too often, literally.
In Lovely War, Printz-honoree Berry (The Passion of Dolssa; All the Truth That's in Me) weaves factual historical events and backdrops into an exquisitely crafted, funny and, yes, epic, novel. --Emilie Coulter, freelance writer and editor