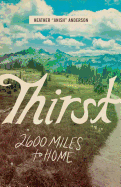 Heather Anderson, who is known on the trail as "Anish," is one of the fastest long-distance hikers in the United States, setting women's speed records and occasionally smashing men's on some of the country's longest, most grueling trails. She's also completed other famed hiking challenges, and she is an accomplished mountaineer and ultramarathon runner as well.
Despite her achievements and obvious ability, Anderson is a somewhat unlikely elite athlete. She began hiking as an out-of-shape college student with no real outdoors experience but a deep spiritual pull to the wilderness. Today, even as her profile rises, she refuses sponsorships and other forms of support, and has eschewed convention to live most of her life among mountains and on trails.
Thirst: 2600 Miles to Home is Anderson's account of the 60 days, 17 hours and 12 minutes she spent hiking the entire Pacific Crest Trail in 2013, breaking the previous speed record set by hiking legend Scott Williamson. It is a slim, fast read, and yet the experience of reading it feels a bit like a low-stakes simulation of Anderson's hike: grueling, meditative, exhilarating and exhausting by turns.
"Each day on the trail I felt myself slipping a little farther into a primal state, where all that mattered... was surviving the day," she writes. "And yet, I still had no idea what drove me, or where that drive came from."
Filled with ruminative self-reflection, soaring natural descriptions and delightful accounts of the gracious, life-sustaining "trail magic" of hiking culture, Thirst is a testament to human endurance, inspiring to hikers and non-hikers alike. --Hannah Calkins, writer and editor in Washington, D.C.