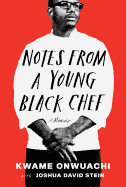 "Flavors," Kwame Onwuachi writes, "are my first language," and since childhood, his life has been shaped by flavor. In the frank and fascinating memoir Notes from a Young Black Chef, co-written with Joshua David Stein, Onwuachi shares seminal stories and recipes from his culinary life.
Onwuachi grew up in the Bronx, N.Y., in a household scented with his mother's Creole and Jamaican cooking. Following his parents' divorce, he alternated staying with his abusive father and his supportive but financially struggling mother. When she was laid off from her accounting job, she started a catering company, and money became tighter--catering was literally a "feast-or-famine business."
That didn't stop Onwuachi from entering the same business himself after an adolescence that included, among other adventures, a two-year stint in Nigeria; a go at college that resulted in getting kicked out for selling drugs; and a gig cooking on a ship in the Gulf Coast following the Deepwater Horizon oil spill.
Finally came culinary school, where entering the highest echelons of his industry also meant reckoning with being a person of color in it. He likens his experience at the Culinary Institute of America to attending Hogwarts, and he parlayed his kitchen wizardry into eventually running multiple restaurants. But conflict always struck: his relationship with his father fizzled. On Top Chef, Onwuachi lost. His first restaurant failed.
Through it all, Onwuachi focuses on his first language of flavor--and his memoir and the recipes within tell that story with humility and heart. Readers will hunger for more. --Katie Weed, freelance writer and reviewer