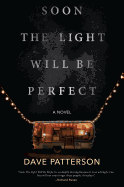 Dave Patterson's first novel, Soon the Light Will Be Perfect, is a rough-edged coming-of-age story. Set in a poverty-stricken Vermont community at the beginning of "the desert war," it spotlights a family in crisis within a town in despair.
The narrator is a 12-year-old boy. Along with his older brother, father and mother, he remains nameless, although more peripheral characters have proper names. As the story opens, the family has recently moved out of the trailer park--an important social step up--and they have given away their old kitchen table in an act of charity. The father is supposed to be building a new one, but this project serves as a metaphor for larger troubles.
The 15-year-old brother gets a girlfriend and distances himself from the narrator, although the boys still smoke weed together in the garage, where the kitchen-table project progresses slowly. This is a devout Catholic family, and guilt plagues the young narrator, whose burgeoning sexual interests, for example, give him trouble. His mother's suffering at the hands of cancer, chemotherapy and radiation seems senseless.
While Patterson's gift for description brings beauty to this novel, the tone is bleak. The father labors helplessly; the sick mother delivers food to those needier than herself but also covers up a small crime, as her younger son sneaks cigarettes and self-flagellates. Soon the Light Will Be Perfect is an ambitious work about what it is to be young and facing problems that challenge the most capable adult. At its end, much remains unresolved, just as in life, but readers can recognize just how true that ending rings. --Julia Kastner, librarian and blogger at pagesofjulia