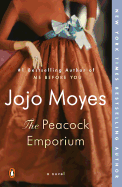 Jojo Moyes (Me Before You; Still Me) originally wrote The Peacock Emporium more than a decade ago. With this new edition, American readers can enjoy the story of Suzanna Peacock and her infamous mother, Athene.
Athene Forster was an "it" girl in the 1960s, a debutante who took London society by storm with her scandalous activities. Suzanna has always struggled with her mother's legacy, and her own strong resemblance to Athene.
Suzanna and her husband, Neil, who lost his job, have had to move back to the country to be supported by her parents, much to her dismay. Suzanna's relationship with her family, which has never been easy, has deteriorated. Furthermore, her marriage is tense, so she decides to open a small shop in town, hoping to find an outlet for her frustration and a way to redeem herself in everyone's eyes.
Told in alternating chapters that depict the lives of Suzanna and Neil, her parents and several patrons of the Peacock Emporium, Moyes neatly weaves together story lines across many decades. As Suzanna begins to connect with the patrons of her quirky little shop and learn their stories, she comes to realize surprising truths about her life, and the things she's always believed to be true. Readers who already love Moyes are sure to like The Peacock Emporium, and new readers will enjoy the blend of contemporary and historical fiction. --Jessica Howard, bookseller at Bookmans, Tucson, Ariz.