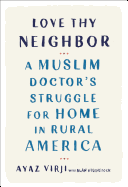 Feeling compelled to help address the shortage of doctors in the rural U.S. and wanting to be more engaged with his patients, in 2013 Ayaz Virji moved his family from Pennsylvania to tiny Dawson, Minn. For several years the Virji family thrived in Dawson--until the 2016 election, when anti-Muslim remarks were made about Dr. Virji, his wife and their children.
Virji candidly shares his rage: anger at Donald Trump's election, fury with his neighbors for voting for Trump and fear for his children in this new America. In fact, he'd already lined up a job in Dubai and had called a real estate agent to put their house up for sale, when he was approached by a local Lutheran pastor. Mandy France wanted Virji to speak at her church as part of an interfaith panel, addressing the local populace about what being Muslim truly means.
In March 2017, Virji gave his first lecture to a crowd of 400 people, more than a quarter of Dawson's residents. This began a series of speeches, as Virji traveled around Minnesota speaking. His lectures laid the groundwork for Love Thy Neighbor: A Muslim Doctor's Struggle for Home in Rural America. Clear-eyed and concise, Virji shares his journey to Islamic faith, his family's experiences post-9/11 and his fears for the future. Love Thy Neighbor is a quick and powerful read that hopefully will counteract anti-Muslim rhetoric and challenge people to reach out to their Muslim neighbors, as Pastor Mandy did with Ayaz Virji. --Jessica Howard, bookseller at Bookmans, Tucson, Ariz.