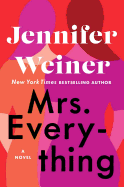 Jennifer Weiner (Good in Bed; Hungry Heart) has created a novel for the ages in Mrs. Everything, which is as impressive as it is ambitious.
Just shy of 500 pages, this is a skillfully rendered and emotionally rich family saga capturing 70 years of American life as experienced by two Jewish sisters. The novel begins in the 1950s in Detroit, where Jo and Bethie grow up in a Jewish suburb. Bethie is the apple of her mother's eye, while Jo, the oldest and more unconventional in her appearance and interests, clashes with her mother's expectations. Jo realizes from a young age that she's gay, and this sets up conflict not only with her mother, but with society in general.
With vibrant descriptive powers and a potent sense of history, Weiner delineates her protagonists' college years. She reveals the 1960s in all their heady psychedelic delirium. Jo and Bethie take much different paths into the '70s, '80s and beyond. That its timeline ends with the 2016 presidential election and the MeToo movement is fitting. Events come full circle, and Jo's daughters have more options, thanks to the women before them. That doesn't stop Jo from worrying about the pressures placed upon them. "Women had made progress... but she wondered whether they would ever not try to have it all and do it all and do all of it flawlessly," Weiner writes.
She defines a formative period for women in the U.S. and shows that big, expansive social novels are not only still possible in our fragmented society but necessary. Mrs. Everything is a great American novel, full of heart and hope. --Scott Neuffer, writer, poet, editor of trampset