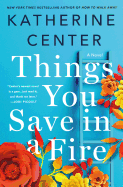 Katherine Center (How to Walk Away, Happiness for Beginners) vividly explores the world of firefighting in Things You Save in a Fire. Firefighter Cassie Hanwell has always been great in a crisis. She's loved by her coworkers, and she's a rising star in the Austin, Tex., fire department, until she sticks her foot in it by insulting a local politician. Asked to resign, Cassie heads to Massachusetts to help care for her estranged mother, who is having some health problems.
Cassie discovers that the hidebound Boston fire department has nothing in common with Austin's inclusivity. She's the only woman, and most of the other firefighters clearly resent her presence. As she competes with a handsome rookie to earn a permanent spot in the Boston crew--on top of assisting her quirky, artistic mother with her doctor's appointments--Cassie discovers things about herself that she's been suppressing for decades.
Things You Save in a Fire is a wonderful exploration of personal vulnerability and strength that takes the reader along on Cassie's journey. Center's descriptions of the dangers that the firefighters face, as well as Cassie's gently burgeoning relationship with the rookie, provide interesting contrasts of drama and romance. Cassie is an outstanding, yet very sympathetic, heroine, and her attempts to avoid falling for the rookie while finding a way to belong with the rest of the fire crew make for a charming narrative. Things You Save in a Fire is sure to be a hit. --Jessica Howard, bookseller at Bookmans, Tucson, Ariz.