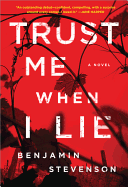 Australian stand-up comic Benjamin Stevenson's debut mystery, Trust Me When I Lie, is no laughing matter. It's a tightly written nail biter with so many twists and turns that it successfully keeps readers riveted, yet slightly off-balance, until its genuinely surprising conclusion. Jack Quick is the producer of an Australian true crime docuseries that has been running a very popular multi-part account of the murder of Eliza Dacey, a backpacker who was working at a local winery picking grapes. Curtis Wade, an unpopular local restaurant owner, was convicted of her murder. Quick's docudrama has been casting doubts on his conviction.
Shortly before the final episode runs, Quick discovers a piece of evidence that makes him believe Wade is the true killer. But, rather than jeopardize the success of his show, Quick gets rid of the evidence. The show earns Wade a new trial and he is released. Wade's defense attorney soon turns up dead, and Quick wonders if Wade killed the attorney or if there's a copycat killer. He begins investigating the new murder, only to receive death threats.
This clever thriller complements its intricate plot by filling it with a number of fascinating, damaged characters who are keeping secrets. Quick is adept at falsifying facts to create a compelling story because he's done it all his life--not only is he hiding his bulimic eating disorder but also the facts behind an accident that left his brother in a vegetative state.
Stevenson's engaging and sure-footed whodunit (originally released in Australia in 2018 as Greenlight) is a twisty delight. --Kevin Howell, independent reviewer and marketing consultant