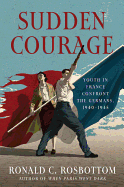 In Sudden Courage: Youth in France Confront the Germans, 1940-1945, historian Ronald C. Rosbottom (When Paris Went Dark) examines the often underestimated role played by young people in the French resistance against both the Nazis in Occupied France and the collaborationist policies of the Vichy regime under Marshal Philippe Pétain in World War II.
Rosbottom begins by describing what it was like to grow up in 1930s France, with an emphasis on the long shadow of World War I, the popularity of detective stories and movies, and the rise of leftist politics. When Germany invaded France on May 10, 1940, French adolescents' lives were disrupted. An astonishing number of them chose to fight back.
Drawing on memoirs, letters and other accounts of young resisters, Rosbottom looks at what led individuals to join the resistance and how inherent qualities of adolescence, such as the urge to challenge authority, contributed to the impulse to resist. He explores the range of resistance activities, which included jeering at German-produced newsreels in darkened movie theaters, joining combat groups and helping hide Jewish children. He examines the way gender roles shaped acts of resistance. He discusses the importance of existing youth groups, which provided a foundation for coordinated resistance, particularly the Jewish Scout group and communist youth groups. And he makes it clear that the costs were often high.
Sudden Courage is a complicated and inspiring portrait of youthful resistants: their successes, their failures, their occasional inconsistency and their undoubted courage. --Pamela Toler, blogging at History in the Margins