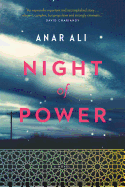 When dictator Idi Amin decrees all South Asian people in Uganda must relinquish their possessions and exit the country or be forcibly removed, Mansoor Visram, his wife, Layla, and their son, Ashif--a well-to-do family--choose Canada as the place to begin their lives anew.
While Layla clings to her religion in their adopted country, Mansoor wonders who needs faith when you have business acumen. After working menial jobs, he buys a couple of businesses. He makes great sacrifices to ensure the success of each venture, but financial stability remains elusive, driving a wedge between him and his family. Frustrations over finances cause a generations-old pattern of domestic violence to emerge.
Ashif leaves home for a job to save his family while Layla sells home cooking mixed with tears, and Mansoor wanders ghostlike in a domicile where he and his wife no longer share a bed. Everything comes to a head during a Night of Power, a midnight-to-dawn prayer event at a temple Layla attends. Will tremendous loss fix what years of noncommunication has torn asunder?
In Night of Power, Anar Ali writes a heartbreaking story of dysfunctional family dynamics reminiscent of Arthur Miller's Death of a Salesman. The hapless Mansoor echoes Willy Loman's overabundance of confidence in his and his son's eminent success, positive his only impediment lies in the inability of others to see his vision. Mansoor's cruel father gnaws at him in both mental and self-imposed physical manifestations. Just as Mansoor aspired to be nothing like his father but cannot thwart learned behavior, Ashif struggles with the same traits taking hold of his own life in this potent debut novel. --Paul Dinh-McCrillis, freelance reviewer