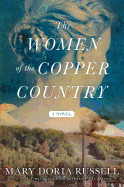 "Labor protests" conjures sooty-faced coal miners, Pullman porters or steelworkers. But Mary Doria Russell's (The Sparrow; Epitaph) seventh novel illuminates labor heroes history often neglects: the women who fought for their husbands, fathers and sons.
The Women of the Copper Country are led by Annie Clements, head of the Women's Auxiliary, Local 15, of the Western Federation of Miners in Calumet, Mich. In this Upper Peninsula city near Lake Superior, the world's largest copper mine boomed as fabulously wealthy owners exploited immigrant workers, numbering 15,000 men in 1913. Then a nine-month strike and a community tragedy forever altered the company town. Annie attended her first miner's funeral alone at nine (a thousand or more by now, she muses at 25) because the new immigrant had no family and "deserved some tears."
"Somebody should" became "Annie will," people said of the woman whose heart matched her six-foot-one frame. In spite of her husband's anti-union stance, Annie's leadership inspires the workers, comforts their families and draws support from the national Federation, which sends organizer Charlie Miller to Calumet. Photographer Michael Sweeney comes, too, because "people know unfairness and injustice when they see it." While 9,000 miners vote to strike for safety and fair pay, 5,000 vote no, but Annie, Charlie and Michael stand up to the mining boss, hired thugs and the state militia for nine frigid, brutal months.
Meanwhile, historic figures lend support: Mother Jones comes to Calumet, Clarence Darrow offers his expertise. Russell's meticulous research frames a gripping novel of rich characters in this story of a contentious era, rife with ethnic prejudice, that feels chillingly current. --Cheryl Krocker McKeon, manager, Book Passage, San Francisco