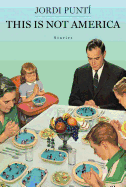 This Is Not America collects nine short stories, all previously published, from Catalonian author Jordi Puntí, translated by Julie Wark. Puntí's stories cover a range of characters, voices and situations, all exploring themes of loneliness and reflection.
A man walks through Barcelona in "Vertical," tracing his dead lover's name with his steps. He's forgetting her face, which is "gently fading away, a vapory cloud of smoke." In "Blinker," a man recalls his years hitchhiking, carrying a briefcase with contents never revealed. Conversing with drivers gives "the sensation that it all came from an earlier intimacy," yet he knows he's not connected with anyone, and he's "turned into an urban legend." "Kidney," about a man whose brother is requesting one of his, has a distinctly O. Henry feel. "Patience" is a piece of autofiction based on the author's participation in a literary project where he visited strangers' homes in order to write about the experience. "Seven Days on the Love Boat" finds a man on a cruise, separated from his wife. Feeling homesick, he considers that "the passage of time burns memories, too, first turning them into dry parchment, after which the combustion starts at the corners, but at least it grants us the illusion of experience."
These stories show Puntí's gift for creating distinctive voices and backgrounds. His characters search for self-acceptance more than they ever actually change. With writing that's smooth and full, This Is Not America showcases the humanity in people who might otherwise be overlooked. --Cindy Pauldine, bookseller, the river's end bookstore, Oswego, N.Y.