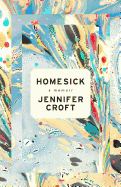 Jennifer Croft's Homesick is a startling memoir, stylistically as well as in its content and in the unusual personality it reveals.
Amy and Zoe are very close. This is the defining feature of their young childhood and arguably beyond. The sisters grow up in Tulsa, Okla., where their mother worries over all the possible disasters in the world and their father teaches college. Then the younger sister, Zoe, has her first seizure, and their lives become dominated by more seizures, hospitals, surgeries; the girls are both home-schooled from then on. A tutor, Sasha, comes in the afternoons to teach Zoe Ukrainian and Amy Russian--the girls' choices. Amy loves numbers and letters; she is entranced by the Cyrillic alphabet. Partly out of devotion to Sasha, she throws herself into this study with all her considerable will. At age 15, Amy enters college, and this separation from her sister is both catastrophic and necessary.
This memoir is told in a close third person from Amy's perspective--that of Croft's persona--and interspliced with photographs captioned by an ongoing direct address, apparently from Amy to Zoe in a later time. Disjointed, sometimes heavy with foreshadowing, lush with a love for words and language, the dual narrative of the sisters' intertwined lives and shared pain seems the right artistic choice for this twisting story.
Homesick is astonishing in its emotional reach, its evocation of a child's discovery and a young adult's suffering and all the wonder of words. What is translatable is perfectly communicated here. --Julia Kastner, librarian and blogger at pagesofjulia