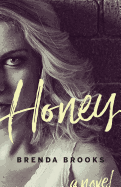 After a car accident kills her father and leaves her mother seriously injured, 24-year-old Nicole moves back into her parents' house to help out. Nicole works as a piano player at a local casino behind a Walmart and doesn't have much going on in life. Until one day, at her father's grave, she turns around and sees Honey, her best friend from childhood.
Honey and her mother disappeared from town six years earlier, to escape Honey's abusive dad. Her mom has since died, and Honey has returned, taking a job at a bank. It's the last job Nicole would have expected her wild, unpredictable friend to have.
Soon Honey's motives become clear, and she seduces Nicole into helping her commit actions Nicole never thought she was capable of. Even when a dead body appears, with a cop hot on the trail, Nicole realizes she'd go to extraordinary lengths to make sure Honey never leaves her again.
In Honey, poet Brenda Brooks takes her time building the characters and setting, and the result is less a mystery than an exploration of obsession and the ignition of latent desires. The pace is languid, and characters speak in long monologues that read more like prose than dialogue, but the book contains many lyrical observations like the one Nicole makes about her friend's easy physicality: "She knew her instrument and... how to improvise error into a kind of magic that was so much better than perfection." The characters may be rough around the edges, but their descriptions contain a sense of grace. --Elyse Dinh-McCrillis, blogger at Pop Culture Nerd