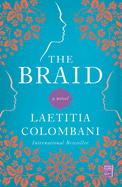 Three contemporary women across the world are unaware of how their lives intersect in Laetitia Colombani's The Braid, translated from the French by Louise Rogers Lalaurie. As the women face existential obstacles, their search for solutions links their lives forever.
Smita is an untouchable in India. She cleans toilets for upper castes and, improbably, dreams of educating her daughter so she can escape a lifetime of degradation. "Smita has no desire to wait for the next life. It's this life, here and now, that she wants, for herself and Lalita." In Sicily, after her father's death, Giulia takes over her family's "cascatura" shop, the tradition of making wigs from human hair. She discovers that the business is teetering on bankruptcy. Vowing to keep it afloat, Giulia reminds herself "that she would carry on, that she would not give in to pain and exhaustion."
Sarah, a Canadian lawyer who's achieved success by keeping her personal life private, is diagnosed with cancer. She attempts to keep this secret, believing that any sign of weakness will interfere with her job: "Like the heroine of a spy novel, Sarah would wage war underground." But this plan spectacularly backfires, and she faces the ultimate test of her worth when it does. Colombani weaves the lives of these three women together in a startling and ingenious way. The author sensitively shows how women everywhere are connected by their struggles against society's expectations. Readers who enjoy a fast-paced story with strong female characters will enjoy this debut novel. --Cindy Pauldine, bookseller, the river's end bookstore, Oswego, N.Y.