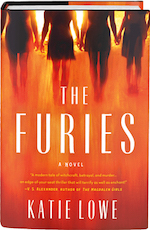 Dark and alluring, Katie Lowe's debut novel, The Furies, is a sensory buffet of beautifully gritty prose and a plot that combines witchcraft, murder and the power of angry young women searching for vengeance.
The book opens on the memory of a macabre scene: a teenage girl dressed all in white and posed sitting on a swing, is found dead of unknown causes. "It was so perfectly composed, like a Renaissance painting," our modern-day narrator muses, the recollection "a thrill, cold and sweet."
Twenty years earlier: after Violet's father and sister are killed in a car accident, her increasingly distant mother insists that the settlement money be used to send her to the local private girls' college, Elm Hollow Academy, an "entirely idyllic, and utterly charming" institution on the outskirts of their otherwise unnoteworthy English town. Introverted Violet expects to be a loner in this new prestigious school, but instead she is instantly singled out by Robin, a wild, loud and apparently fearless girl in her art class. Desperate for friendship, Violet clings to bigger-than-life Robin and her two friends, pragmatic Alex and quiet, thoughtful Grace, even when she hears rumors that she looks exactly like Robin's previous best friend Emily, who has been missing for months.
Desperate to maintain her new friendships at all costs, Violet finds herself emulating the other girls, Robin most of all. What begins as common delinquency--smoking, drinking, skipping class--escalates to illicit drugs and violence as they relish in the "brutal power of female friendship." When their hypnotic art teacher, Annabel, invites Violet to take secret lessons alongside Robin, Alex and Grace, it solidifies Violet's growing attachment to the girls--even more so as they study the history of female oppression, witchcraft, mythology and literature.
When one of them is attacked and justice seems unlikely, the friends begin to take Annabel's lessons more literally, invoking ancient spells and ritual sacrifice to summon the mythic Furies to their aid. As the conjured Furies begin to wreak their vengeance, the lines between reality and magic become blurred in Violet's mind. The girls' growing sense of power and virtue takes its toll on anyone in their way, and their actions escalate in violence as together they become judge, jury and executioner.
But the emotional and chemical highs of these moments are followed by doubts as Violet questions not only the ethics of their actions but even her memory of them. Her sometimes unreliable narrative reveals a teenager who is confused and desperate for the affection and approval of her friends, Robin in particular. And though Violet is the protagonist, it is Robin who brings pulsing life to the story and pushes her forward, whether in jealousy, love, grief or joy. "Robin, in our moments of doubt, would pull the four of us together with the force of her belief, words electric and vivid with righteous fury at men, at injustice, and brutal power." Her sensuality and overwhelming confidence offer an alluring escape to Violet, who would otherwise be crushed in her own grief.
"It is [the lot of women] to be seen as either unpredictable and irrational mortals, maligned and repressed by the actions of men, or sacred beings, goddesses of a higher realm, among the Fates and the Furies." Lowe takes this civilizations-old social narrative and shifts it, empowering Violet, Robin, Alex and Grace to action, albeit violent and reprehensible. Her lush descriptions of characters and settings give the increasingly horrifying scenes an addictive quality as Violet and her friends spiral deeper into their own sense of power and twisted morality, their unity propelling their cavalier sense of righteousness and untouchability: "We were close to the divine. We touched gods, felt them flow through our veins. Felt lust, envy, greed, quicken our hearts--but for a while we were truly, spectacularly alive."
The Furies is a contemporary horror story that harnesses the real-world frustration and anger of generations of women who find themselves overlooked, underestimated and often abused. The most impressive part of Lowe's story, however, is not the vast spread of history she includes or the increasingly violent and destructive path of her protagonist or her vivid, imagery-rich prose. It is that even as readers will judge Violet and her friends harshly, they will also, at least at times, find them strangely, intimately relatable. With the #metoo movement headlining the news and feminist empowerment at the forefront of conversation in the United States, this story of strong, angry women is well-timed. Contemporary themes of friendship, empowerment and surviving trauma are interwoven with magic, sacred rites and vengeance, making The Furies a dark and intoxicating page turner that will speak to many. --Jennifer Oleinik
St. Martin's Press, $26.99, hardcover, 368p., 9781250297891, October 8, 2019