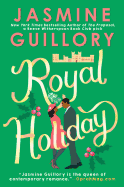 Jasmine Guillory (The Proposal) steps away from California and heads to England in Royal Holiday. As always, Guillory's writing explores love from a humorous perspective. Popular stylist Maddie Forest, heroine of The Wedding Party, is heading to England to work with a duchess for Christmas, and she talks her mother, Vivian, into coming along. That way Vivian can leave the country for only the second time in her 50-something years.
Much to Vivian's surprise, she loves Sandringham, the royal estate where the duchess is staying for Christmas. And she's even more attracted to Malcolm Hudson, a member of the royal staff, who is tall, handsome and has a fantastic accent. Malcolm, the first black private secretary to the queen, is drawn out of his typical reserve and into conversation with the beautiful, lively Vivian.
Sweet and sexy, Royal Holiday is a charmingly festive romance, full of vivid details of London tourist spots like Westminster Abbey and the Victoria and Albert Museum. It's refreshing to read a romance novel with a strong, older woman at its center, and readers are sure to fall for Malcolm's charm as easily as Vivian does. With lovely descriptions of the frigid English countryside and the delicious meals that Vivian and Malcolm share, Royal Holiday is the perfect tale of courtship to cozy up to with cup of tea. --Jessica Howard, bookseller at Bookmans, Tucson, Ariz.