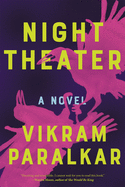 Night Theater by Vikram Paralkar is set in an Indian village medical clinic and transpires over the course of one fateful night. With an ethereal twist, as well as subtle humor, it dismantles the stories people might tell themselves about the great beyond. Physician and novelist Paralkar (The Afflictions) wants to make sure readers don't get too comfortable about what awaits them after death.
The clinic sits atop a hillock while the village sprawls below, symbolic of the high pedestal doctors are often placed upon, especially in places where medical care is scarce and the need is great. The clinic is run by an overworked, nameless surgeon and an uneducated woman referred to as "the pharmacist." She is responsible for jobs like disinfecting the poorly lit operating room, making the doctor's lunch and administering the insufficient medical rations the clinic receives from crooked officials in the city. The stink of bureaucratic corruption is a recurring theme.
The other actors in this spare, powerful story are a ghostly family who have suffered fatal stab wounds. They return from the afterlife with one more chance on Earth. Such is the challenge they present to the horrified surgeon: if he can repair their wounds before daybreak, then they will be allowed to stay among the living.
Paralkar's remarkable first novel will intrigue readers of thrillers and ghost stories alike, exploring as it does a macabre premise with spiritual dimensions as well as a host of terrifying earthly dilemmas facing the poor surgeon. Night Theater unfolds in a meditative, trancelike fashion, culminating in an act of divine grace that will take readers' breath away. --Shahina Piyarali, writer and reviewer