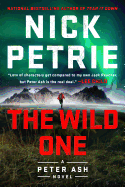 Nick Petrie's The Wild One is the thrilling fifth novel in the Peter Ash series about a wandering Marine veteran of the Iraq War seeking to calm his PTSD demons by doing some good in the world.
On his way to finding some peace in California's Death Valley, Peter gets a call from Tom Wetzel, a former Marine turned corporate fixer, who begs Peter to help a desperate client named Catherine Price. Catherine's eight-year-old grandson, Óskar, has been taken to Iceland by his father, Erik, after Erik was accused of killing Catherine's daughter, and Catherine fears for Óskar's life. She'll finance whatever Peter needs to get the boy back.
In spite of his mental health concerns, Peter agrees to fly to Iceland to look for Óskar. But as soon as he lands, he's met by customs officials and a member of the U.S. Embassy. They tell Peter he has 48 hours to leave the country or be taken into custody--and they won't explain why. With the police, embassy officials and an intensely fierce storm nipping at his heels, Peter races against time, freezing temperatures and impassable terrain to rescue the boy.
According to the author's note, Petrie performed exhaustive research on Iceland to give readers a nail-biting, immersive experience. The storms Peter encounters are bone-chilling in ferocity. The fight scenes are brutal hand-to-hand battles, with huge Nordic locals throwing Peter around like a rag doll. But he gains help from the unlikeliest of sources to unravel this intensely paced mystery of what made Erik and Óskar run. --Paul Dinh-McCrillis, freelance reviewer