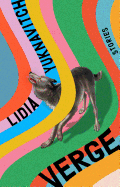 Lidia Yuknavitch (The Book of Joan; The Chronology of Water) evokes a range of strong and subtle emotions with Verge: Stories, a collection dealing with "the spaces between things." These stories are shocking, stark, pulsing; their power lies in their realism, even when the tone turns dreamy and approaches magical realism. Yuknavitch's clear voice, with its unflinching demand that her readers recognize pain as well as beauty, is as precise and distinctive as ever.
The earthshaking opening story, "The Pull," features a swimmer whose "shoulders ache from not swimming" in wartime, one of two sisters "twinning themselves alive." It feels as if set in a world far from the average everyday--until the final, heart-dropping line. Verge most frequently features female characters, but some male, including a couple of tender stories starring gay men. There are traumas--violent, sexual, emotional--and revenge, as well as quiet recoveries and acts of grace and mercy.
Other stories deal with children employed as black-market organ runners; men working at a fish processing plant in Seattle; a man seeking recovery both physical and psychological in an eye-opening cross-country drive. In "Shooting," a woman's want feels "like a mouth salivating... like the weight of an arm. Like the next sentence."
Disturbing and essential, these stories emphasize the forgotten, the pushed aside, the marginalized. Yuknavitch's storytelling is urgent, raw and inspired, and if Verge is a love letter to those on the edge, it is equally important for all of us. --Julia Kastner, librarian and blogger at pagesofjulia