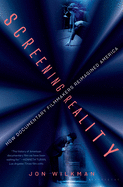 Many people bemoan living in a "post-truth" age, nostalgic for a world before social media when facts were indisputable. But as documentarian Jon Wilkman meticulously reveals in Screening Reality, the question of fact vs. fiction is as old as the earliest "actualities" from the 19th century.
At the end of World War I, America's Answer thrilled patriotic audiences with gripping images of life on the front lines; by World War II, screened reality was given the "Hollywood touch." In between the wars, In the Land of the Head Hunters and Nanook of the North added dramatic flair to tell the story of "exotic" North American Indigenous peoples, while the anti-capitalist The Plow that Broke the Plains reflected the rise of radicalism in the 1930s.
Along with the advent of television, two new styles of filmmaking--direct cinema and cinéma verité--put the camera and its subject front and center. Frederick Wiseman's Titicut Follies shocked audiences with its look at inmates at a mental institution; The Maysles brothers' Grey Gardens followed the aunt and cousin of Jackie Kennedy living in squalor; PBS's An American Family presaged the rise of reality TV with its chronicle of an "average" family in 1973. All courted controversy, garnering accusations of voyeurism and exploitation. By the end of the 20th century, establishment documentarians like Ken Burns celebrated the best of the United States alongside provocateurs like Michael Moore, who exposed its hypocrisies.
Today, technology has enabled everyone to be a content creator, democratizing the genre and providing a platform for women and minorities to tell their stories--as well as disruptors who sow seeds of doubt at every turn. Celebratory yet cautionary, Screening Reality provides a fresh perspective. --Frank Brasile, librarian