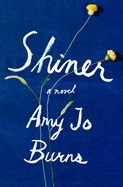 Set on a mountain in West Virginia and populated by snake-handling preachers, moonshiners and the women who survive them, Amy Jo Burns's first novel, Shiner, is a powerful story about finding moments of light in the dark--even if that means burning everything down. Shiner is a story about stories: those we tell ourselves, those we tell others and the stories that live on after we can no longer tell them.
Teenage Wren and her mother, Ruby, are cut off from the world. Their only regular contact outside their cabin door is with Ivy, Ruby's lifelong best friend, and Ivy's family. Wren narrates the first part of the book, describing her possessive preacher father and the intensely close relationship between the two adult women in her life. Wren and Ruby's existence is characterized by poverty, loneliness and a constant sense of dread. When tragedy is followed by a miracle, their world is upended, leading Wren to seek the truth behind the faith that has shaped the lives of everyone around her.
Though they inhabit a world of controlling men, Ivy and Ruby persevere, sharing their stories and struggles--except when they don't. Everyone in Shiner is keeping secrets, sharp and dizzying like moonshine, revealed to the reader and, eventually, to Wren through changes of narrator.
Burns (author of the memoir Cinderland) illustrates how cruel and ceaseless life for these three women is, and how changing who tells the story can free both the listener and the teller. --Suzanne Krohn, editor, Love in Panels