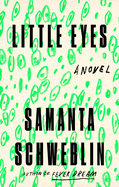 Technology twists human relationships to the breaking point in Samanta Schweblin's thrilling dystopian novel, Little Eyes.
Expertly translated from Spanish by Megan McDowell, the novel is a deft and heartrending exploration of technology's capacity for both good and evil. Schweblin (Fever Dream) creates a present day in which new devices called "kentukis" explode in popularity until people are connected to them all over the world. The small devices come in many shapes, resembling bunnies, dragons, even crows. Their "little eyes" are cameras, and they have wheels to move about. Kentuki "keepers" maintain the devices in their homes as they would pets. Kentuki "dwellers" operate the devices remotely from a computer. Once a connection is lost, though, it is lost forever, and the device becomes unsalvageable.
This novel features many moving parts, a panoply of characters all over the world whom Schweblin captures as they fumble over the technology, become obsessed with it, come to both love and hate it. She pulls together recurring characters in a thrilling tapestry. Some of the most poignant moments, though, come from minor characters who make brief appearances. A young dweller from China, for example, falls in love with a dweller in France only to have the device's keeper turn against him. In another standalone scene, a refugee from Sierra Leone becomes a dweller and shares a moment of exultation that takes him out of his dreadful surroundings.
To her credit, Schweblin crafts more than a cautionary tale. Some of the human connections are real, though always tenuous. Little Eyes is an imaginative interpretation of the hyperconnected present delivered by a first-rate author. --Scott Neuffer, writer, poet, editor of trampset