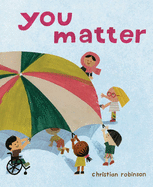 Pairing concise, compassionate text with playful acrylic paint and collage illustrations, Caldecott and Coretta Scott King Illustrator Honoree Christian Robinson (Another and Last Stop on Market Street) offers heartfelt affirmations to "anyone who isn't sure if they matter"--and maybe even to anyone who is. You Matter is a bear hug of reassurance disguised as a delightful children's picture book.
Robinson speaks to "Those who swim with the tide... and those who don't." They matter, he insists. Robinson points to his reader directly, "If you fall down./ If you have to start all over again./ Even if you are really gassy. You matter." In busy cities, in nature, in space, the audience cannot escape the powerfully simple message: "you matter."
The scenarios are accessible and easily lend themselves to candid discussions about emotions; few will struggle to remember a time when they felt like a pest or were lonely. Also helping pull readers into his literary embrace is Robinson's bold use of color and texture in his charming art. Visible brush strokes, striking shapes and masterfully placed detail create a sense of life, movement and growth. Children, adults, dinosaurs, asteroids, mosquitos, everyone and everything in Robinson's realm has significance.
Authentic and plainly profound, You Matter is a captivating, empowering picture book, but it's also unvarnished fun. "Old and young./ The first to go and the last," anyone can find connection and enjoyment in Robinson's positive outlook on life. --Jen Forbus, freelancer