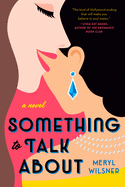 A shared laugh on the red carpet is all it takes to ignite rumors in Meryl Wilsner's charming romance debut, Something to Talk About. Chinese American screenwriter and former starlet Jo has a great working relationship with her much younger Jewish assistant, Emma, but is it more than that? The media, fed by tips from an on-set leak, surely seem to think so.
As they try to keep a professional distance while working in close proximity, the rumors have Jo and Emma seeing each other differently--a situation that becomes ever more awkward as their relationship evolves: "The rumors would have kicked right back up if people saw them like this, looking like lesbian aunts cheering on their siblings' kids. Emma was even wearing plaid."
Over the course of a year, the two women navigate their age gap and power imbalance, a sexual harassment incident with another character and the hazards of figuring all of this out in the public eye. Wilsner takes care with both the power dynamics between Emma and Jo and the sexual harassment subplot, but makes sure to add enough banter and behind-the-scenes Hollywood tidbits to keep the narrative from feeling too heavy.
Something to Talk About is primarily a slow-burning romance, and Wilsner keeps readers invested through strong characterization, a cast of endearing secondary characters and a healthy dose of humor. Readers looking for two smart, ambitious and big-hearted women will find a lot to talk about in this sapphic story. --Suzanne Krohn, editor, Love in Panels