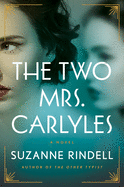 San Francisco's massive and deadly 1906 earthquake lasted approximately one minute, yet its aftermath created a dramatic divide in Cora, Flossie and Violet's friendship. The trio's longtime bond from their childhood in St. Hilda's Home for Girls through their young adulthoods of affluence lies at the heart of The Two Mrs. Carlyles, an evocative and fast-paced novel of historical suspense from Suzanne Rindell (Three-Martini Lunch; The Other Typist).
A tragedy moments before the San Francisco earthquake presents the three with a life-changing decision, yet subsequent odd occurrences lead Cora and Flossie to sever their relationship with Violet. Bereft at their betrayal, Violet's determination to reinvent herself parallels San Francisco's civic rebirth, depicted in a symbolic yet subdued fashion. "Bit by bit, the city poked its head up from the ashes, rising shyly at first, curling into the air like a seedling sending its first green shoots up from the soil, feeling for sunlight. Folks began to rebuild. California is like a woman.... California really had reconfigured herself."
When Violet meets and marries wealthy scion and arts patron Harry Carlyle, her life transforms further while mysteries surround the couple: Why does Harry's longtime housekeeper Miss Weber dislike Violet so intensely? Are the unexplained happenings throughout Harry's mansion due to Violet's spells or a sinister presence? And is Harry's first wife, Madeleine, dead or alive?
The Two Mrs. Carlyles is an atmospheric thriller with both a fairy tale and gothic feel. With well-drawn characters and Violet as her deeply unreliable narrator, Rindell deftly unveils how wealth has the power simultaneously to elevate and destroy our relationships with the people we love. --Melissa Firman, writer and editor at melissafirman.com