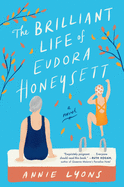 U.K. author Annie Lyons's stories often veer toward the sunny side of life, depicting how human connections can become an equalizing force to ease loneliness and personal conflict. In The Brilliant Life of Eudora Honeysett, she dips into darker territory, focusing on a world-weary 85-year-old Brit who wants to end her life on her own terms.
With no husband or children--"old and tired and alone," her body "winding down like an old clock"--Eudora contacts an organization in Switzerland willing to help fulfill her objective. That is, until new neighbors--the Trewidneys, a family from Cornwall expecting their second child--move in next door. When Rose, the Trewidneys' precious 10-year-old, meets Eudora and her lovable cat, Montgomery--and learns that Eudora swims at the leisure center--the unabashedly intrusive child pushes herself into Eudora's manageable routine and upends her plans.
Rose's presence, like a force of nature, unwittingly launches Eudora back into living, where the two meet Stanley Marcham, a widower who had been married for 60 years. The three kindred spirits, each undergoing readjustment in their lives, suddenly find unexpected companionship and joy. Amid shared outings and fun experiences, Eudora reconnects to life and also begins to reflect on her past--especially the tragic years during and post-World War II, when, at 10 years old, Eudora's sense of responsibility, duty and honor mapped and shaped the course of her future.
Lyons (The Happiness List) shows tender empathy and compassion for her well-drawn characters, offering a charming, thought-provoking story about the healing powers of friendship and love. --Kathleen Gerard, blogger at Reading Between the Lines