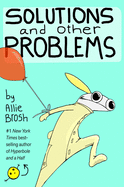 Allie Brosh is back with her first book in seven years, and Solutions and Other Problems is a gem well worth the wait. With Brosh's trademark unconventional illustrations and delightful wit, this is a graphic memoir sure to be loved by many.
Brosh, creator of several famous Internet memes--including "Clean all the things!"--was open about her mental health struggles in her earlier blog posts and first book, Hyperbole and a Half. Solutions and Other Problems continues in that vein, with essays detailing her depression, her fears and the traumas in her life over the last few years. She has undergone some heartbreaking things and explores them candidly--and occasionally brutally. But there are also laugh-out-loud essays about a wild babysitting experience in her youth; a fight with her ex-husband about bananas; and the mysterious piles of horse poop that kept appearing in her childhood home.
The balance of sadness and humor brings great depth and allows readers to empathize with Brosh's losses while laughing at her antics. The quirky illustrations add to the story, showcasing Brosh's ability to create meaningful art, even if the style is unusual. Fans of Jenny Lawson, Jen Lancaster and Nathan W. Pyle are sure to enjoy the mix of hilarity, poignancy and the downright bizarre that characterize Brosh's work. Solutions and Other Problems will leave readers wanting more, and hoping that another seven years will not elapse before Brosh creates another graphic memoir. --Jessica Howard, bookseller at Bookmans, Tucson, Ariz.