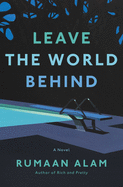 Rumaan Alam (That Kind of Mother) thrills and unsettles with Leave the World Behind, a novel about family and other relationships, getting what's desired and reactions in the face of crisis.
The story begins mid-road trip, a white family of four on their way from the city to their vacation rental. Amanda, an account director in advertising, and Clay, an English professor, plus their two kids. They have an apartment in Brooklyn and a mid-range sedan somewhere between luxurious and bohemian. And yet they are jealous of their well-appointed Airbnb, its idealized decor and the imagined lives of its owners. Alam's writing is gorgeously detailed and impeccably paced, so that this is a story for readers to sink into, effortless and comfortable, even sumptuous. Until a knock comes at the door.
Ruth and G.H. are the owners of the vacation home, and the arrival of the older couple in the middle of the night is disturbing enough, but their story is stranger: a blackout in New York City, fear driving them out into the country, invading the family's perfect getaway. Amanda is suspicious. Unexpectedly, Ruth and G.H. are Black. Amanda wonders if it wouldn't make more sense for them to clean this beautiful house, rather than own it.
The resulting tension touches on generational differences, gender dynamics, class and race--Clay and Amanda are self-conscious of their faux-benign racism, and the story serves subtly as a criticism of social norms. Leave the World Behind is pitch-perfect in atmosphere, easy to read and deceptive in the high polish of its setting. Alam has crafted a deeply bewitching and disquieting masterpiece. --Julia Kastner, librarian and blogger at pagesofjulia