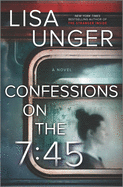 In Lisa Unger's ingenious psychological thriller Confessions on the 7:45, two women meet and start chatting on a train. Shortly thereafter, one woman's life is devastated in the most shocking fashion, while the other is finally set free from the burdens of a traumatic childhood.
Unger (Heartbroken; The Stranger Inside) has carved an impressive niche for herself, lauded for her crime novels and suspenseful thrillers. In Confessions on the 7:45, she combines these genres into a wickedly complex mystery featuring a missing nanny, a stranger with a grotesque sense of justice and a retired detective with a decades-old cold case to solve. The story pivots back and forth in time, centered on seemingly unconnected characters Selena and Pearl.
Selena has an Instagram-ready life, complete with a gorgeous family and a dream job in Manhattan. Even Selena's nanny, Geneva, is impeccable. Teenage Pearl lives a bookish life in the shadow of her larger-than-life mother, Stella, a woman distracted by a string of unstable boyfriends. Stella's latest is different, though, and connects with Pearl on a cerebral level, taking the young woman under his wing. Unger offers multiple character perspectives for Stella's and Pearl's stories, setting them up for a spectacular collision that forms the backbone of this slow-burning thriller.
Confessions on the 7:45 is a brilliant study of characters as damaged on the inside as they are perfect on the outside, populated with enigmatic female protagonists that will haunt readers long after the story is over. --Shahina Piyarali, writer and reviewer